Second Line NI brings jazz music back to the streets of Derry – Derry Daily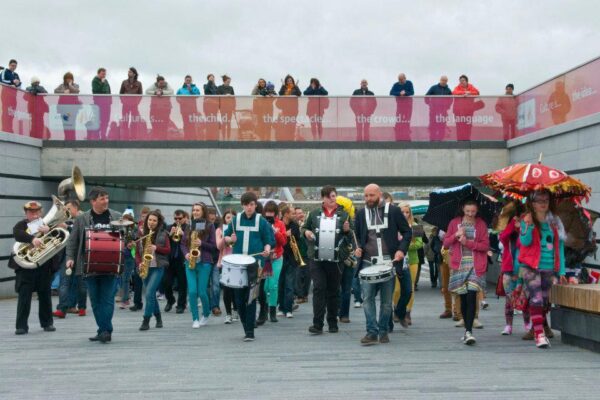 Derry's community music and jazz education charity, Second Line NI, is making final preparations for the return of its now legendary Jazz Parade to the streets of the city this Saturday.
The tenth anniversary of the organization and the 8th edition of Second Line will prove a particularly emotional afternoon for the musicians, dancers, hoppers, skippers and shufflers who will gather in Castle Street at noon for one of the highlights of the City of Derry Jazz and Big Band Festival 2022.
For the parade troupe, their performance is all about spreading joy by connecting with the audience and they are excited to bring the infectious spectacle back to a live audience.
"We're so ready to play and dance," says Amanda Koser Gillespie, Founder of Second Line NI.
"I've spoken to so many musicians and the main conversation that keeps coming up is how disconnected we've felt over the past few years and how hard it's been to reconnect with others.
"Online is just enough, but you can't shake hands, you can't lean face to face and show your heart to the person in front of you and know they're there with you.
"What I love about the people of Derry is that they are always up for the craic and so are we.
"I've seen people spontaneously dance alongside us and then carry on for the rest of their day.
"When you leave a moment like this, you take with you the feeling it gave you and that memory acts as an open invitation to come back and join in every time.
"I think what makes this so special is that anyone who wants to has a place to join, any instrument is welcome, any age is welcome.
"We're not asking people to come and represent anything other than who they are and what they want people to see."
Second Line NI is a jazz education charity focused on shared music and community building.
The organization was founded a decade ago to explore shared public spaces with shared music after an impromptu meeting between Amanda and acclaimed sousaphone player of the JayDee Brass Band, Patrick Witberg.
"I saw Patrick walk past the window where I was working at the time," she explained.
"They were playing at the Jazz Festival for the first time and as a tuba player, when you see another tuba player, you want to meet them.
"I ran out of the building and into the street after they shouted to arrest the sousaphone player.
"After a conversation, I met the band a few times during those days and we talked about street jazz in New Orleans.
"We all have a very special place in our hearts for this specific type of music and its raw, edgy quality of playing and use of improvisation.
"I saw how people followed them no matter where they went, they were a magnet for magic and happiness – even if they only played for 10 minutes.
"I had only lived in Derry for a few years and was just getting into the gigging scene here.
"Jazz is a very important part of my life and I love the connection when I meet people who share this passion, whether it's listening or playing.
"I was introduced to Robert Goodman and we started to build a group of musicians of all ages who wanted to have fun.
"That momentum has picked up and we have continued to bring people together along the way and we continue to bring people together.
"We wanted then, as much as now, to really explore shared public spaces with shared music and for us, that's jazz.
"Now whole families come out to play and celebrate and it's beautiful!
"The parade is based on the New Orleans Jazz Funeral model where mourners are joined in their procession to the cemetery by a marching band that plays music that starts out heavy and sad but soon becomes festive.
"This year we have a lot to celebrate and a lot to remember," added Amanda.
"The second line of a Jazz Funeral marks the time when you celebrate life, live it, are in it, and celebrate it with those around you.
"You celebrate the lives of those who are no longer there to dance with you and this year we want to tap into the heart of the second understudy because we have a lot to celebrate.
"Our first year when the second line was finished I thought wow, that's a lot of work and now we've done it, what do we do next?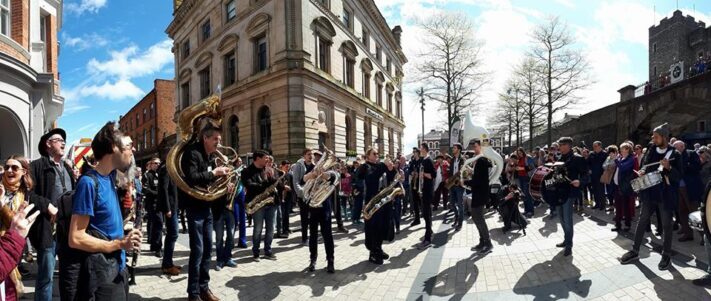 "Will it take off and will people want more?
"I realized at the end that I had to go back to the starting point because all the children had left their instrument cases in the building, the crowd dispersed and I was filling the car with my tuba and my bass drum and I was chatting with the JayDee guys and Silvestre, the snare drummer, stopped the conversation and said 'listen!'.
"The kids on the second row got together and played the plays all the way back to where we started.
'In doing so he called most of the crowd back and they followed the children up Castle Street and created their own impromptu second line.
"We saw this happen and I couldn't be more proud, they just did it and they brought back the joy and people responded.
"That's when we realized the second understudy belonged here."
The eighth annual Second Line Jazz Parade kicks off in Castle Street at noon on Saturday April 30.
It will pass through Castle Street, Waterloo Street, Strand Road, right onto Great James Street – past the City Hotel around the roundabout, passing the Post Office onto Guildhall Street before turning left and ending alongside from Guildhall Square.
For a full list of the 2022 Jazz Festival, visit: cityofderryjazzfestival.com
Second Line NI brings jazz music back to the streets of Derry was last modified: April 27, 2022 by cassoscoop
Keywords: