Penn State Jazz Bands to Perform "Dimensions in Jazz" on October 16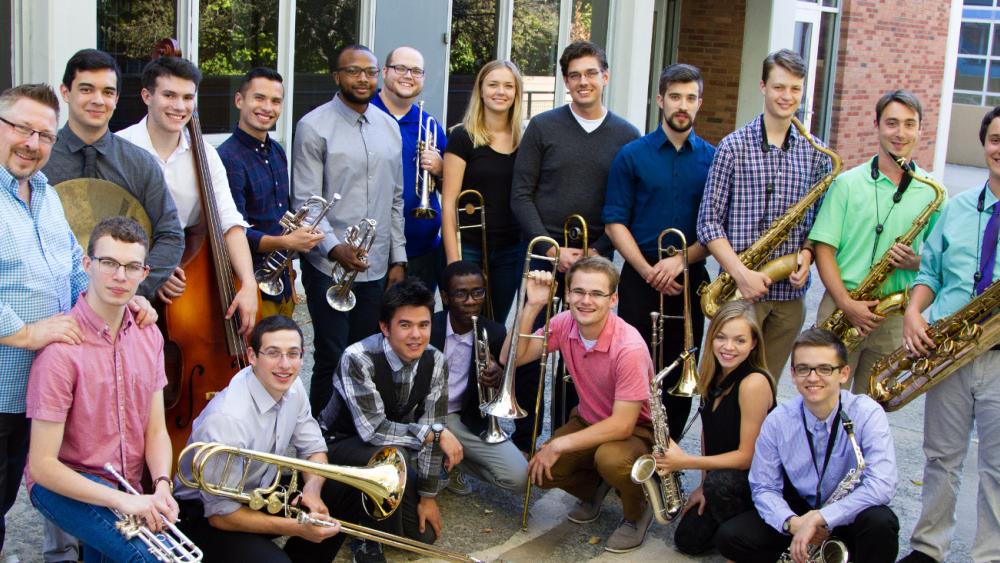 UNIVERSITY PARK, Pa. — The three Penn State jazz bands take the stage for their first concert of the 2016-17 school year at 4 p.m. Sunday, Oct. 16 at Esber Recital Hall in University Park. "Dimensions in Jazz" will feature performances by Outer Dimensions (led by graduate student Austin Oprean), Inner Dimensions (led by School of Music faculty member Eric Bush) and Center Dimensions, Penn State's premier 20-piece jazz ensemble. The occasion marks the first time that Center Dimensions will be conducted in concert by Marko Marcinkonew director of jazz studies.
Outer Dimensions will perform "Jelly Roll (My Jelly Roll Soul)" by Charles Mingus, "Skylark" by Hoagy Carmichael and "Mucho Gusto" by Henry Levy. The Inner Dimensions program features big band jazz standards recorded by the Count Basie Orchestra, the Pat Metheny Group and the Buddy Rich Band. Additionally, freshman jazz singer Rachel Neff will be featured in Sammy Cahn's "Teach Me Tonight." The Center Dimensions program features great American and Canadian jazz big band arrangers, including Rob McConnell, Bill Potts and Bill Hollman, all of whom have contributed to the jazz big band library over the years.
Tickets are $4.99 for general admission and $2 for students. They will go on sale 45 minutes before the concert in the lobby. Tickets are cash only and no advance purchases are available. This concert will also be broadcast live on Penn State School of Music website.
Presentation by Marko Marcinko
During his years in the music industry, Marko Marcinko worked as a freelance musician playing drums, percussion, piano/keyboards, bass guitar and trombone. He has also served as a studio performer, arranger, musical director and producer for numerous commercial jingles, independent films and off-Broadway, club and theater engagements.
Born in Archbald, Pennsylvania, Marcinko studied technique with drum master Joe Morello and continued his training at the University of Miami (Florida) where he studied classical, jazz, Brazilian and Afro-Cuban styles under professors Fred Wickstrom, Steve Bagby, Steve Rucker. , Harry Hawthorne and Ney Resaro.
Marcinko toured and recorded with jazz legend Maynard Ferguson in the mid-90s and with NEA jazz master Dave Liebman as a member of the Dave Liebman Band from 2000 to 2014. He currently works with the award-nominated Dave Liebman Big Band. Grammy and the Organik Vibe. Trio with Joel Frahm, Ron Oswanski and multi-Grammy award-winning vibraphonist Dave Samuels.
He is the founder and artistic director of the Pennsylvania Jazz Alliance and the Scranton Jazz Festivaland has served as a consultant, clinician, and adjudicator in the United States, Canada, South America, Eastern and Western Europe, and Japan.
Over the past 25 years he has played with Joe Henderson, Phil Woods, Jimmy Heath, Clark Terry, Jon Faddis, Slide Hampton, Bob Dorough, Red Rodney, Michael Brecker, Randy Brecker, Mulgrew Miller, Mike Stern, Kurt Elling, Tierney Sutton, Janis Siegel, Terell Stafford, Joe Lovano, Anthony Jackson, Mike Stern and Will Lee; and with popular musicians and artists such as John Legend, Jon Secada, Joan Rivers, Jay Leno, Connie Francis, Joe Piscopo, Don Rickles, Melba Moore, Juan Gabriel, Clay Aiken, Bob Newhart and Nicol Williamson.