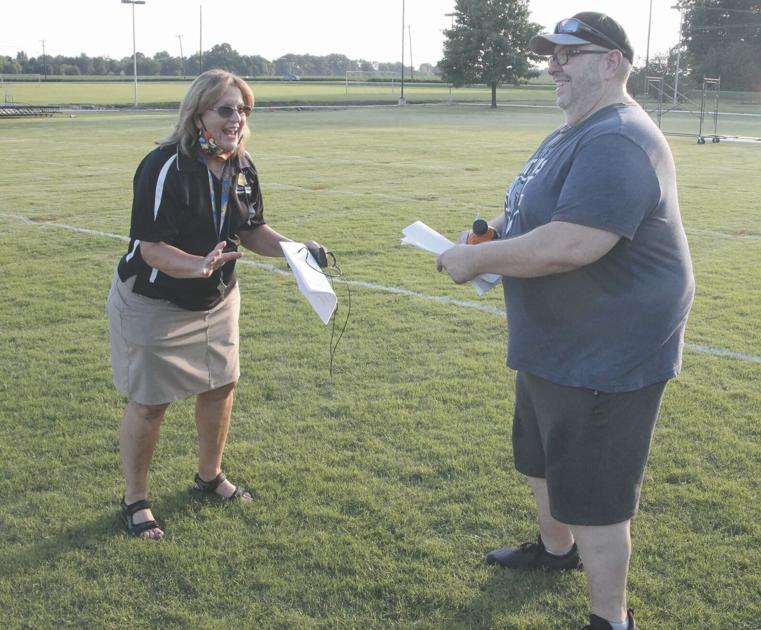 MHS group members mentor incoming 6th grade students at kick-off | Local News
MURRAY – Murray Middle School group principal Beth Stribling said she was delighted Monday night to see veterans of the Murray High School group welcome sixth-graders into the fold of the Tiger Band.
Stribling has been the director of the MMS group for 35 years and wanted to do something like Monday's event – which was called the "Sixth Grade Band Kickoff" – for quite some time. With the cooperation of MHS Group Director Tim Zeiss and members of his group, they carried it out at the MHS practice ground, followed by some time indoors with each instrument section working in a different classroom. To add some prestige to the event, Stribling asked Neal Bradley, the "voice of the runners," to announce each of the new sixth graders. As names were called out, many high school students handed over their instruments to new band members.
In the opening announcements, Bradley noted that the Tiger Marching Band won the National Championship in the Bands of America National Walking Competition 44 years ago, and since then have performed in the Macy's Thanksgiving Day Parade. and the Orange Bowl Parade. He also mentioned that the Murray High Jazz Band had been selected to perform at the prestigious MidWest International Band Conference, and that the group had also been crowned back-to-back champion at the 2017 and 2018 KMEA (Kentucky Music Educators Association) State Marching Band competitions. .
"Why mention this now when we're here to celebrate the new members of the Sixth Year group?" Bradley read his script. "Because all of the musicians who have performed at such high levels over that 44-year period all started out as the students we are honoring tonight. They were all beginning musicians like those sixth graders who look forward to an incredible future within the award-winning Murray Tiger Band. "
Stribling said when she told her sixth graders the runners' voice would announce them, they gasped.
"All those kids said 'Oh my god!'" Stribling said with a laugh. "You would have thought I said 'Dick Vitale'."
"It was an incredible honor to be invited to do something like this," Bradley said. "I grew up (listening to marching bands). I've never been a part of it, but I've always enjoyed what they've been able to do. I have never really been able to watch what is going on downstairs; I just saw the finished product on the pitch, but it's amazing. And to join such a great tradition as the Murray High Band, I got to see what the band has accomplished over the past 40 years. And to see these young people take that first step – and who knows what they are going to accomplish? – I know I was very excited to do something like this for them.
Stribling said she always tries new things to make the group experience more special for her students. She recalled that in 1988, the MHS group camp was held at Bethel College and the program began to have "big brothers" and "big sisters" as mentors for new freshmen. Eventually, this type of mentoring caught on all the way up to college level, she said.
"Since coming here, I've used high school students to help educate college, and we've just fostered this family relationship from grades six to twelve," said Stribling. "During (the COVID-19 pandemic) I was listening to podcasts and stuff like that just to try and see how other people were handling things, and they were talking about ways to make recruiting really special and to try to get the kids to join the group. They were talking about having activities like sports drafts, and that's when I started to think about what we could do here. what he transformed into.
"The kickoff of the sixth year was an absolute home run!" Zeiss said. "It was so cool to see the excitement on the faces of the sixth graders and to see the high school students leading the teaching. I really think this will become an annual tradition!
MHS sophomore Rianna Peng plays clarinet for the Tiger Band and described how she felt as she showed sixth graders how to put their new instruments together and start playing.
"I think it's really cool that we do this because most of the time if you're in a band it's a big organization and you might not know everyone, even the people who play. of your instrument, "she said. "It's really cool that we can introduce ourselves to these people and maybe help them and get to know them."
Fern Carron, another second grade clarinetist, said: "I think this is a good opportunity for the sixth grade students, and I'm happy that they are learning older people to practice their instrument.
Ginny Chipman, a sixth-year tuba player, said her older sisters Anna and Kate were also in the group and her father Mike teaches at MHS.
"I'm going to play tuba and joined the band because my sisters were doing it and I thought it would be fun," she said. "(The presentation) was fun and I can't wait to learn new songs."