Jazz groups will present the concert "Autumn Leaves"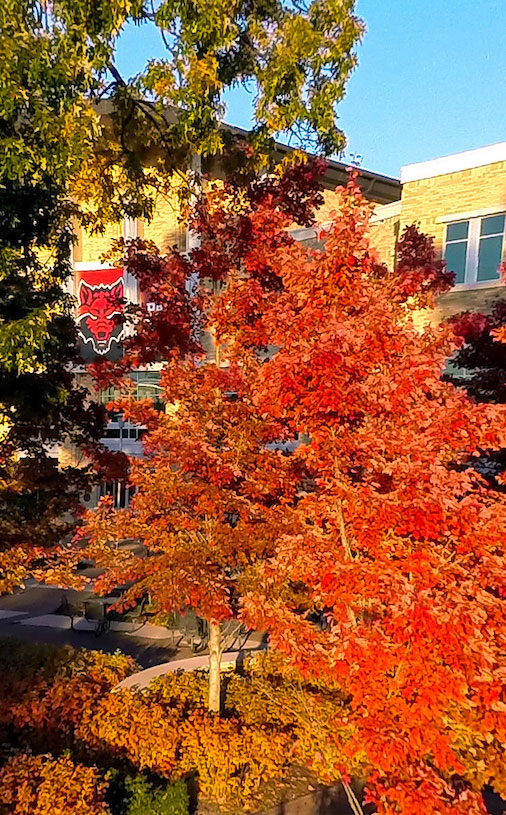 Jazz groups will present the concert "Autumn Leaves"
10/10/2018
JONESBORO — Arkansas State University's Department of Music and A-State Jazz Studies will present "Autumn Leaves," the annual showcase of fall jazz, on Thursday, Oct. 11 at 7:30 p.m. in Riceland Hall at the Fowler Center.
The evening will feature performances by the two major ensembles, A-State Jazz Lab, and the first ensemble, A-State Jazz Orchestra, both conducted by Dr. Ken Carroll. "The program runs the gamut, from dance band music of the legendary swing era to the fresh and exciting sounds of today's jazz," Carroll said.
A-State Lab Band will open the program with a traditional blues arrangement by Dave Mills entitled "Blues for Thara". The evening continues with the great gospel piece by Arkansas native Joseph Curtis titled "Devotional". Curtis, of the Delta Jazz Workshop staff, is an A-State Jazz Studies alumnus.
A modern funk track by Texas saxophonist and educator Rick Lawn follows, "Step On a Crack." The Lab Band set will end with another great Curtis arrangement, this time a modern pop track, "Havana."
After a brief change of scene, the A-State Jazz Orchestra will dive into classic Duke Ellington swinger "Such Sweet Thunder," a great showcase for muted horns. The band really like Andrew Neu's composition "Catwalk", dedicated to the elegant contributions of Henry Mancini. The band will play another excellent arrangement by Dr. Tom O'Connor, "Red Clay". This is a clever arrangement of a Freddie Hubbard tune with great feel.
The highlight of the evening will be "Cover Drive", a 12/8 "barn burner" by Lachian Davidson. Written for the Australian National Jazz Ensemble, A-State Jazz Studies is eager to present this great music featuring talented tenor saxophonist Tyler Remagen, the most recent recipient of the Thomas Miles O'Connor Jazz Scholarship.
Tickets are free for A-State students and $5 each for the public. For tickets, call the A-State Box Office (870) 972-2781.
For more information about this concert or any other A-State music event, contact the Music Department at (870) 972-2094.
# # #