Jazz Bands to Perform 'Autumn Leaves' Concert in Fall Showcase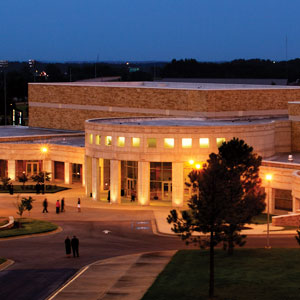 Jazz Bands to Perform 'Autumn Leaves' Concert in Fall Showcase
04/10/2021
JONESBORO — The A-State Department of Music and Jazz Studies will present "Autumn Leaves," the annual showcase of fall jazz at 7:30 p.m. on Tuesday, Oct. 12 at Arkansas State University's Fowler Center's Riceland Hall.
The evening will feature performances by the two major ensembles, A-State Jazz Lab, conducted by Michael Medrick, and the first ensemble, A-State Jazz Orchestra, conducted by Dr. Ken Carroll. The program runs the gamut, from the dance band music of the legendary swing era to the fresh and exciting sounds of today's jazz.
A-State Lab Band will open the program with a traditional blues track by Bennie Golson, arranged by Medrick, titled "Blues on My Mind." The evening continues with "Second Wind" by Chris Clark, then "Rosa Mae", by Mary Lou Williamson. The Lab Band set will end with another Medrick arrangement of a Shorty Rodgers piece, "Pirouette."
After a brief change of scene, the A-State Jazz Orchestra will collaborate with vocalist Lisa Ahia on Rodgers & Hart's classic "My Romance" and then perform an original piece by Medrick, "I Always Get the Blues from You."
The band will be joined by trombonist Don Bowyer, a former dean of fine arts, for "Lockdown Blues," written while in Kuala Lumpur during the pandemic. The evening will end with "Tank", by Yoko Kanno, arranged by Dannewitz.
Admission is free for A-State students and faculty with campus ID, or $5 for others. For tickets, the A-State box office is (870) 972-2781.
For more details on the concert or any other A-State music event, one can contact the Music Department at (870) 972-2094.
The members of both groups are listed with their hometown and high school:
Jazz Lab Band
Silas Weinert-Palomino – Bloomfield, Missouri, Bloomfield High School
Illana Parker – Trumann, Trumann High School
Shannon Johnson – Batesville, Southside High School
Ryker Little – Piggott, Piggott High School
Parker Robinson – Jonesboro, Jonesboro High School
Andrew Williams – Jonesboro, Nettleton High School
Ryan Baldwin – Paragould, Greene County Technical High School
Selah Winn – Jonesboro, Jonesboro High School
Gerson Rangel – Paragould, Paragould high school
Nathaniel Kittrell – Beebe, Beebe High School
Eliecer Tamez – Jonesboro, Nettleton High School
Chris Shaw – Cabot, Cabot High School
Kaitlynn Holland – Batesville, Batesville High School
Al Clevenger – Jonesboro, Jonesboro High School
Blake Fleischmann – Little Rock, Little Rock Catholic High School
Zane Massey – Pine Bluff, White Hall High School
Cadence Patterson – Jonesboro, Nettleton High School
Tyler Chamberlain – Paragould, Paragould High School
Matt Dixon – Jonesboro, Jonesboro High School
jazz orchestra
Ethan Scurlock – Brookland, Brookland High School
Layton Sanders – Poplar Bluff, Mo., Poplar Bluff High School
Chase Hoots – Jonesboro, Westside High School
Michael Ward – Poplar Bluff, Mo., Poplar Bluff High School
Christopher Crutchfield – North Little Rock, North Little Rock High
Izak Atherton – Owensboro, Kentucky.
Emelie Fincher – Springdale, Shiloh Christian High School
Rike Robinson – Jonesboro, Nettleton High School
Lari Norwood – Paragould, Paragould High School
Cody Daughertee – Poplar Bluff, Missouri, Poplar Bluff High School
Brody King – Jonesboro, Jonesboro High School
Ethan Williamson – High School in Houston, Texas, Netherlands
Morgan Williams – Collierville, Tenn., Collierville High School
Dean MacDonald – Paragould, Greene County Technology
Al Clevenger – Jonesboro, Jonesboro High School
Josh Huffstutler – Jonesboro, Jonesboro High
Eric Watson – Jonesboro, Jonesboro High School
Gabe Waters – Bloomfield, Missouri, Bloomfield High School
Jack Ezell – Maumelle, Maumelle High School
Quentin Takacs – Bristow High School