Jazz artists Ran Blake and Dominique Eade explore the tenderness and darkness of American folk traditions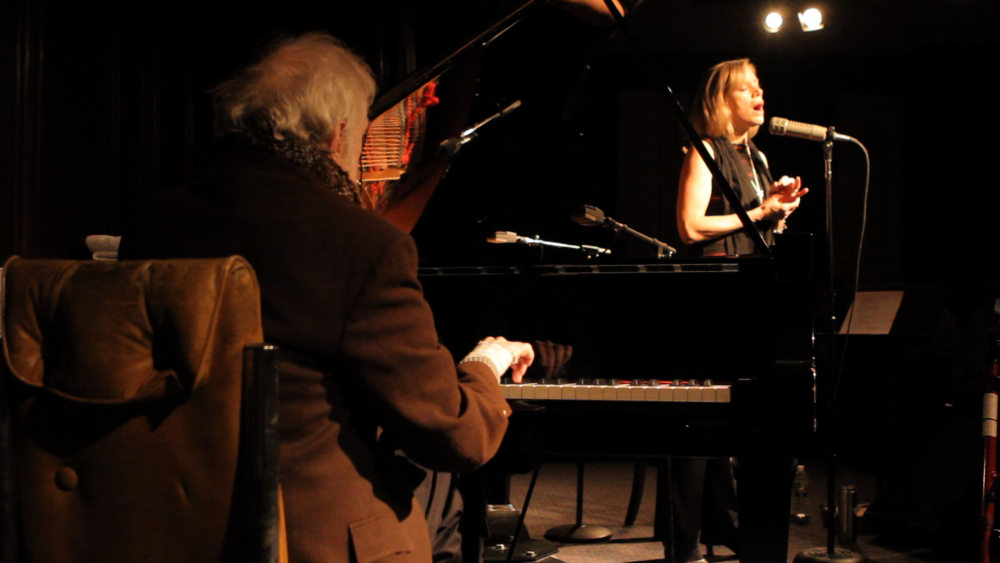 The lights are off in Jordan Hall at the New England Conservatory. A clear voice with a southern rhythm reaches into the darkness singing: "He was tall, he was slender, and his black eyes so tender. His occupation was mining, West Virginia his home. The final phrase is interrupted by cacophonous and jerky piano voices, interspersed with tense pauses.
"It has the ghosts of the past," pianist Ran Blake said of the room where he and singer Dominique Eade — both NEC instructors — recorded their new album "Town and Country."
The new project is a modern exploration of American folk traditions touching on gospel, country, the Great American Songbook and traditional folk music with selections from Bob Dylan, Mahalia Jackson and Charles Ives. It's a departure for Blake, who founded the avant-garde and free improvisation department Third Stream at the NEC, as well as Eade, a well-known jazz teacher and singer. The hall, however, has been a home for their music many times before.
"It definitely affected the mood," Eade said, though casual listeners might not realize the album was recorded there. While listening to the album, the music communicates the nostalgia and strangeness that was present in the process.
The carefully selected vision and message emerged organically, they said. Blake created playlists, or what he calls "auditory cocktails", as they watched film noir films, a genre of crime films from the 1940s and 1950s that had a major influence on the game. from Blake.
"We were doing things [musically] it was new for both of us," Eade said, adding that they spent a lot of time brainstorming repertoire ideas.
The final product is made up of 18 tracks, mostly under three minutes and tightly spaced, which form a series of vignettes touching on very different musical styles with atmospheric congruence. Eade's characteristic rhythmic elasticity and clear, bell-like tone are present on the album, but she also experiments with the vocal styles associated with each selection. She doesn't try to turn Mahalia Jackson's "Elijah Rock" or Johnny Cash's "Give My Love to Rose" into jazz, but rather adds a slight twang, makes her vocals more nasal or robust, or inserts a gospel riff where appropriate. .
"I didn't think I could sing them well without really understanding the original artists," Eade said. "It's more of an emotional connection than strictly a technical one – I think I could have sung country more country and gospel more gospel but I was more interested in the emotional message as it came through the musical delivery of each artist. I felt like I had to push the genres as far as I needed to emotionally and musically draw out what was important."
While Eade experiments with more traditional forms of expression, Blake focuses on texture and drama. "Sometimes there's a hint of rhythm," he said, "but that's not my main concern" and "I don't do a lot of linear lines."
It's hard to talk to Blake about what he focuses on musically because listening to him one experiences fluctuations in intensity and pressure rather than concrete musical concepts. A gentle stirring of the piano's low register, harmonically and rhythmically unbalanced and slightly sinister, builds tension in the opening accompaniment of "Moonlight in Vermont". Blake then definitely strikes a high register cluster chord as Eade sings the word "hypnotized". The chord unfolds as intertwined chords and phrases cascade freely to a silence.
Although Blake and Eade respect the traditional roles of voice as lead and piano as accompaniment, they describe themselves as "equal partners" and Eade says she tries to follow Blake as much as he follows her. "The sound of what he's playing is so amazing that you had to be on your toes to stick with it, you can't just follow through on your ideas on the song. There is a vulnerability there.
I asked Eade how their distinct approaches coexist. "It's as if we were two different boats, but the surface tension of the water is the same. … If my boat rocks in a slightly different way than his, we are always very aware of the bond between us, the common denominator. When you sing with Ran and you lose that, you know it right away. It requires strong listening and empathetic sensitivity.
Blake and Eade will officially release "Town and Country" at Thelonious Monkfish in Cambridge on Saturday July 22. It will be interesting to hear Eade and Blake elaborate on the solid conceptual framework they established in the recording. With this project, the personal history of Eade and Blake intertwines with the heritage of American music. The result, Eade hopes, is "darkness, but also hope and tenderness."