Jazz artists celebrated for International Women's Day on Jazzwise, Jazz FM and Serious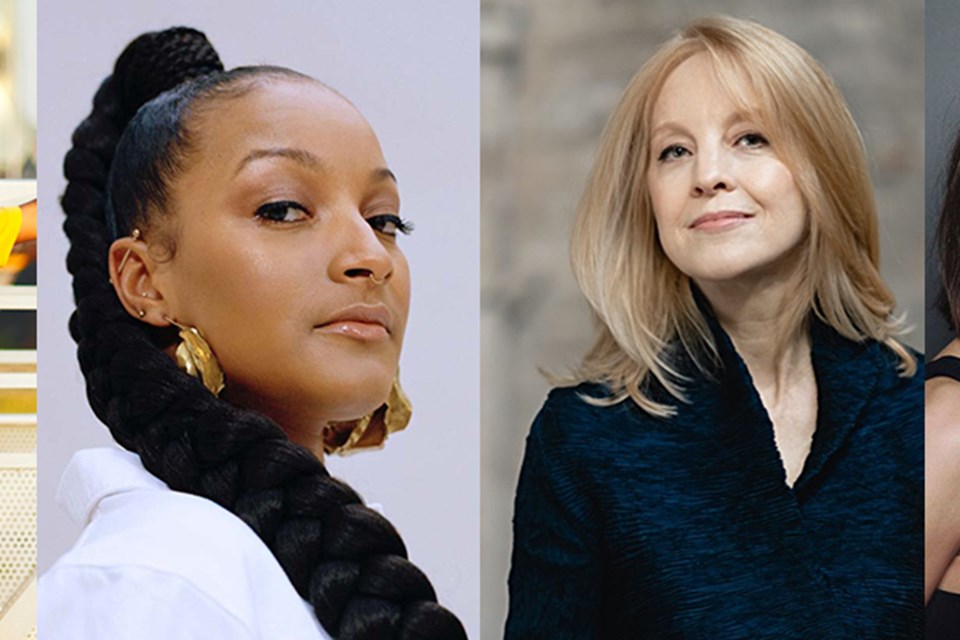 The contribution of women to jazz will be celebrated in style on March 8 as part of International Women's Day, across a range of promoter online performances Serious, a week of specials on JazzFM and a new "Women In Jazz" homepage on the Jazzwise website.
Things kick off this weekend as Serious, producers of the EFG London Jazz Festival, feature many big names via a series of sold-out concert streams, a new partnership with the World Women's Festival Istanbul, playlists, galleries and more. Content can be found on a new dedicated webpage serious.org.uk/we-are-for-women – with content shared on Serious' Facebook and Twitter pages for a long weekend of celebration starting today from Friday March 5 to Monday March 8, 2021. Features include their Director of Programming, Pelin Opcin powerful personal statement about his own experiences as well as Serious' work with women and their ambitions for the future. There is also a concert featuring the British-Bahraini psychedelic trumpeter of "Arab jazz" yazz ahmed who collaborates with the award-winning Turkish kamancha player and composer Melisa Yıldırım – streamed live from WOW Istanbul on Friday, March 5 from 12:55 p.m. – and is free to see. There are also full live concerts from last November's EFG LJF from Emma-Jean Thackray, judi jackson, Loraine James, Erased bands special, and more.
JazzFM are also dedicating numerous shows throughout the week of March 8-15 with programs and content to celebrate the "innovative women of jazz, soul and blues and the charities doing vital work in the UK ". The week-long season opens with Jazz FM Voices: "Women in Jazz", moderated by the journalist and broadcaster Lou Paley, which explores some of the women who have played a pivotal role in shaping jazz history, while it concludes with the singer and Jazz FM presenter China Moses, alongside her industry colleagues, exploring the treatment of women in music and what the future holds.
Elsewhere, weekday and weekend "Discovery" programs at 9 p.m. and weekends will be IWD-themed, while daily Business breakfast will feature a series of special guests, including Helene Pankhurst, great-granddaughter of a suffragette Emeline Pankhurst, and women, spearheading the call for more gender diversity at the top of the business world. On IWD itself, programming from Jazz FM presenters, including Claire Teal, jez nelson, John Osborne, Ruth Sinner, Mark Walker, Helen Mayhew and Sarah Ward will select and pay tribute to revolutionary female musical icons. For full program details for the week, visit www.jazzfm.com
Jazzwise Magazine will also launch a new dedicated homepage – Women In Jazz: the artists you need to know – which will be an ongoing resource for readers to discover leading female jazz artists, past and present, with dozens of feature films and interviews available for free on its ever-expanding website. These include interviews with the composer/conductor Marie-Schneider – who won the Jazzwise 2020 Album of the Year Critics' Poll for his superb album, Data Lords – who gave a candid interview to the magazine last September about the dangers of big data and the need for artists to control their own music and creativity. There are also interviews with important names from the British scene, including saxophonists Nubya Garcia and Cassie Kinoshi, main singers Liana Carroll and Claire Martin, composer/conductor Nikki Illes and Issie Barrat, award-winning trumpeters yazz ahmed and Emma-Jean Thackray, and insightful articles by an acclaimed jazz writer Val Wilmer, among many others. More features will be added as they are released in the months and years to come.

This page will go live for International Women's Day – visit the Jazzwise website and social media pages from 9am on Monday 8th March