INTERVIEW: Christian Hoff and Melissa Hoff team up for a new jazz single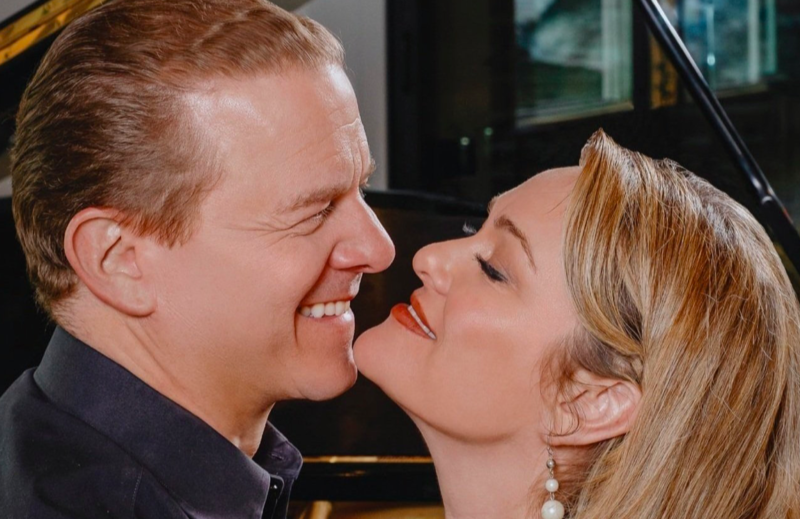 Photo: Christian Hoff and Melissa Hoff recently collaborated on a new jazz track. Photo courtesy of the artists / Provided by Crossover Media with permission.
---
Singers Melissa Hoff and Christian Hoff, who are married in real life, recently released their new jazz duet titled "We Talk Without Words," which features lyrics by Eileen Bluestone Sherman and music by Gail C. Bluestone. . The song is available now from 6-10 Productions LLC.
Both performers are accomplished in their own right. Melissa has starred in everything since The Penzance Pirates at The Phantom of the Opera at scarlet pimpernelwhile Christian is known for his Tony-winning turn in Boys jersey on Broadway. He is currently touring with The Midtown Men, a band made up of former students of Boys jersey stage production.
Recently Hollywood soap box exchanged emails with the Hoffs about their new recording. The questions and answers have been slightly edited for style.
How was this recording born?
CHRISTIAN: The song – with lyrics by Eileen Bluestone Sherman and music by Gail C. Bluestone – had a life of its own for many years, but had yet to be recorded as a single. Melissa and I were invited to contribute our voices, and we were thrilled to sing an original tune together for the first time.
LEMON BALM: We were also thrilled to have the opportunity to work with our friend and producer Joshua Sherman (Eileen's son) at Old Mill Road Recording and contribute to the story of 'We Talk Without Words'.
What inspired you to record this song?
LEMON BALM: I think the intricacies of a relationship are beautifully expressed in the song. Those feelings are very familiar to us now, having spent the past 22 years together…finishing each other's sentences.
CHRISTIAN: And yet, we still communicate most of our thoughts in a single look, as we did in the beginning, without words.
Do you think this song will lead to an EP or a fuller album?
CHRISTIAN: With producer and friend Joshua Sherman, anything is possible! We look forward to continuing our collaborations together.
LEMON BALM: An album of Eileen and Gail's gifted writing, communicating the human experience in a profound and relatable way, will be well worth the wait!
What's it like working together as collaborators and married couple?
LEMON BALM: We greatly appreciate any opportunity to work and collaborate together. We met in 2000, working opposite each other in the musical Camelot.
CHRISTIAN: As artists, we like to riff on other people's ideas and "play" within the structure of a scene or song.
When did you first fall in love with jazz?
CHRISTIAN: I first fell in love with jazz thanks to my father's love for music. He was a budding musician in the Swedish jazz scene of the 1950s. My dad told me wonderful stories of Quincy Jones sitting around his kitchen table many times. Jazz has always been part of his life. I integrated it very early by studying and participating in vocal jazz festivals from an early age.
LEMON BALM: My earliest memory of jazz was hearing it live, outdoors, as a kid in Southern California. I loved how the music made me feel… relaxed, cool, free. My favorite radio stations even then played good jazz music. As I discovered my personal love for music, I was inspired by Ella Fitzgerald, Billie Holiday, Sarah Vaughn. Jazz is inspiring, uplifting, stimulating, introspective and therapeutic.
How was the pandemic? This seems especially difficult for live performers.
LEMON BALM: We have both seen a year and a half of bookings disappear in the space of a week. The first few days…the months…were hard to navigate. Christian, however, developed pragmatic solutions to keep the music going.
CHRISTIAN: Through videos and live performances at the drive-in concerts, we've seen first-hand how people are willing to embrace the need for music in any way possible and connect with others.
What's next for you two?
LEMON BALM: We are both passionate about using music to benefit others. Music can be entertaining or therapeutic, and when brought to an event, it's a powerful fundraising and awareness tool. A cause close to our hearts is cancer research.
CHRISTIAN: I lost my father to cancer as a teenager and my mother is currently battling cancer. Our youngest daughter is now facing a relapse of leukemia and Melissa is in remission from breast cancer.
LEMON BALM: Music is a great source of comfort and healing for us personally. Working in collaboration with sibling songwriters Eileen and Gail ("The Bluestone Sisters") on "We Talk Without Words" reminded us that creativity and opportunity may be more closely linked than we realize.
CHRISTIAN: We like to sing together. In addition to touring, recording, and producing entertainment events, I hosted a weekly jazz show from the award-winning Old Mill Road Recording Studio in East Arlington, Vermont called Jazz 'n TÖST. It airs weekly on WEQX and is available online at Jazzntost.com.
By John Soltes / Editor / John@HollywoodSoapbox.com
"We Talk Without Words" by Christian Hoff and Melissa Hoff is available now from 6-10 Productions LLC. Click on here for more information.