Has Jazz's current roster reached its peak? Here's what Gobert, Mitchell had to say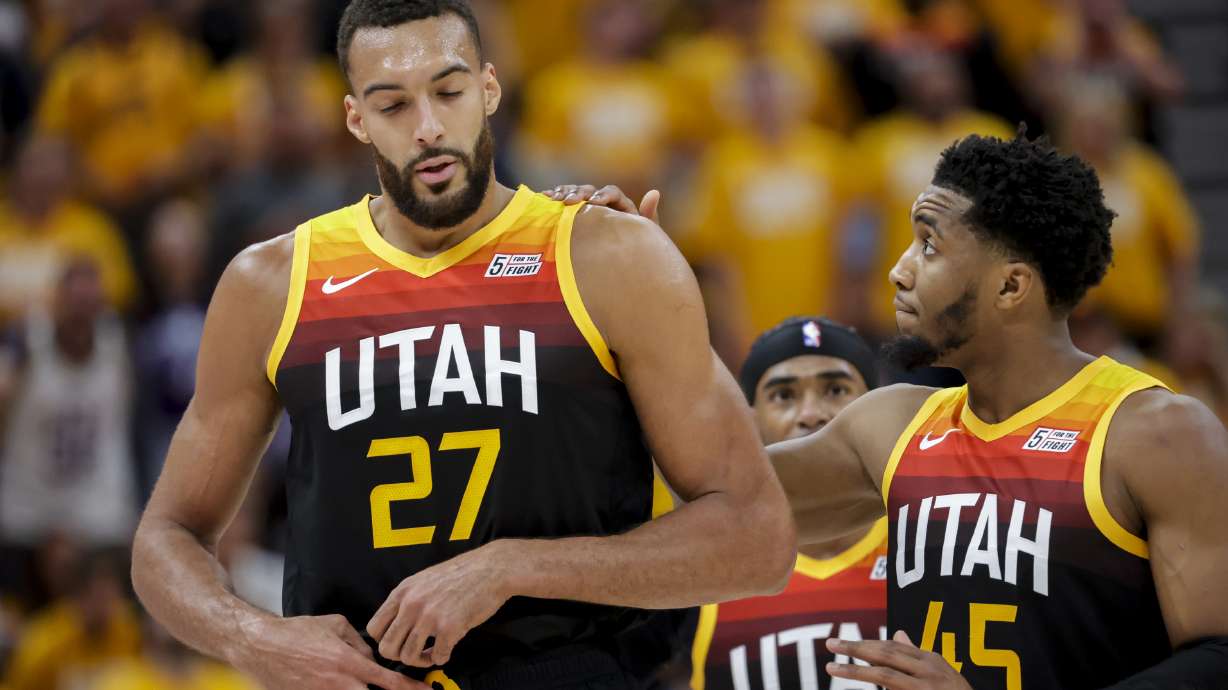 Utah Jazz guard Donovan Mitchell (45) cheers on Utah Jazz center Rudy Gobert (27) after a game in Game 3 of an NBA basketball first-round playoff series at Vivint Arena in Salt Lake City on Thursday, April 21, 2022. (Mengshin Lin, Deseret News)
Estimated reading time: 5-6 minutes
SALT LAKE CITY — The first key date of the offseason came and went Tuesday, with little hype around Salt Lake City. After all, the Utah Jazz have made it to six consecutive playoffs; they have long been on the lottery draft.
The biggest effect the annual ping pong balls had on Utah was that Oklahoma City could potentially bring Salt Lake City's No. 2 Summer League pick — so none. (If the New York Knicks, however, had jumped on a high pick, the Donovan Mitchell trade rumors would have really started.)
As it stands, Tuesday was just a normal day in Utah, but it officially ushered in an offseason that could see some big changes.
Here are some of the options the Jazz has going forward:
Hold on tight. Bring back their two All-Star players, along with a familiar supporting cast, and hope the 2020-21 squad is more indicative of what this roster can do.
Keep Rudy Gobert and Mitchell, and try to improve with deals involving Mike Conley, Bojan Bogdanovic, Jordan Clarkson, and more.
Swap Gobert or Mitchell and try to re-equip around one of them.
Blow it up. Trade the two perennial All-Stars, then the lottery will be a much bigger day.
And before any of those decisions can be made, this question needs to be answered: has this list peaked?
Here's how Utah's biggest stars answered that question:
Mitchell: "Honestly, I don't know. It's nothing against the group, I think we just missed out. I'd like to think we can find a way, but in the same way, it's not to me ."
Gobert: "We have a lot of talent. This year we faced a bit more adversity in the season; but, no, I feel like we can be so much better than we have been , and that's been really frustrating."
Mitchell shrugged. Gobert thinks – or at least hopes – that there are better days ahead.
As for coach Quin Snyder, whose status for next season is still a little uncertain, he thinks the team was one "spark" away from doing something special in the playoffs.
"I thought our record didn't reflect what we could do in the playoffs," Snyder said. "I felt like we were about to have a spark and fire it up and find that unit or whatever, that extra secret sauce and take off."
Obviously, he was quick to add that it didn't happen, and now the Jazz faces a lot of questions.
There are a lot of good numbers over the past half-decade. The Jazz have gone to six straight playoffs, won the third most games in the past five years, and had teams that led the league in offense and defense.
The Jazz have a foundation with Mitchell and Gobert who will win big, post lots of stellar stats and look like one of the best teams in the league for the 82-game regular season. In the playoffs? Well, that's another story.
Utah has now chained three disappointing playoff series. You can't lose a 3-1 lead to the Denver Nuggets, lose four straight games to the Los Angeles Clippers (including two without Kawhi Leonard), and fall 2-1 to a Dallas Mavericks team without Luka Doncic. without there being any major doubts about the team's playoff potential.
(And no, Dallas' run to the Western Conference Finals doesn't change that perspective. Utah could very well have been swept away had Doncic been completely healthy all playoffs.)
For Snyder, the Jazz might have been one spark away from making a run, but it's a spark that has always been missing in the playoffs.
"We're a team built on unity and playing for each other and sometimes we've lost that," Conley said. "When we lose that identity, we're kind of fighting against who we want to be and what we're trying to do there every night. So there's a lot of things that we're going to look back and try to figure out; but, ultimately, it's just a really disappointing feeling."
Nobody could really determine why things were wrong this season. There was obvious friction between the media snipes, the joyless basketball, Snyder's 19-minute rant trying to cool things down. These are all products of problems that no one knew about or at least were not revealed.
"You try to wonder why we can't just be consistent and play the same way with the same identity every night," Gobert said. "And obviously some nights you're not going to play well but keep that identity. It was the same in the playoffs."
This identity changed during Snyder's tenure. Utah was once the best defensive team in the league, and it has transformed into a 3-point sniper club. It looks like changes are needed again. The problem? Utah doesn't have many avenues to improve.
They currently don't have a draft pick in this year's draft and are well over the cap, so they'll only have the mid-level exception to use to sign free agents. They also don't hold the bird rights for Danuel House Jr, so they might not even be able to bring him back.
With owner Ryan Smith reportedly reluctant to trade the Utah All-Stars with the midseason showcase to Salt Lake City next season, the Jazz could finally look the same next year.
And just hope they can find that spark.
×
More stories that might interest you