Cape High students do concerts in every state, jazz bands, choir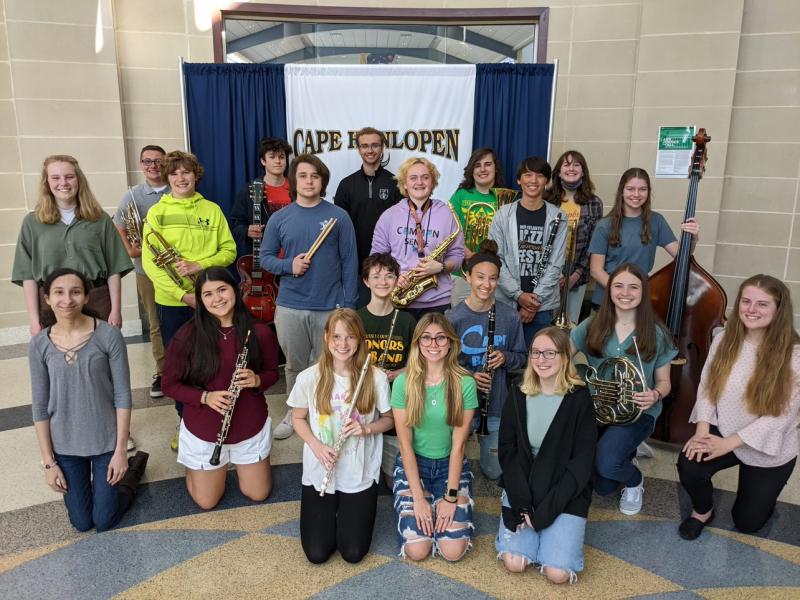 After not being able to perform as a group during the pandemic, the number of Cape High musicians and choristers who have won concert band, jazz band and choir honors is enough to fill a small orchestra.
Choir director Marian Sunnergren said she was due to teach fundamentals in September, when all students returned to school full-time and in person for the first time since March 2020.
"They are now back to where they were vocally before the pandemic," Sunnergren said. "It was obvious how much they lost due to COVID."
This year, the 10 Cape High students who auditioned for a spot made All-State Choir. They are Haley Archambault, Alexis Barker, Hadyn Carter-Hanson, Nicole Cordner, Reilly Fagles-Carey, Federico Giovannitti, Emily Groll, Avery Silicato, Kayla Sponaugle and Gabriella Windsor.
The group's director, Chris Burkhart, said some of his students hadn't played together since middle school and they pushed each other to succeed.
Peer encouragement helped 12 Cape High students make All-State Concert Band; three of those students got the first chairs for their instruments, Burkhart said.
Josh Turek, trumpet, is part of the All-State Senior Band; Mackenzie Vitolo, clarinet; Amelia Bickel, french horn; Federico Giovannitti, percussion; and L Williams, flute.
Cape High students Grayson Baltzar, percussion, selected for All-State Junior Band; Amelia Phelps, trombone; Aidan Hudson, French horn, first chair; Clay Wakefield, trumpet, first chair; Anna Coverdale, oboe, first chair; Katie Costello, flute; and Christopher Emmett, euphonium.
Additionally, seven Cape High students have made All-State Jazz.
"There are nine possible first chairs, and all seven of our students were first chair players," Burkhart said. "We also had a rhythm section sweep. The piano, bass, guitar and drummer were all from Cape Town, as well as the lead trumpeter, lead alto sax and first chair bari sax player.
Cape High students doing All-State Jazz are Josh Turek, lead trumpet; Chance Trumbauer, alto sax solo; Sara Dawson, bass, first chair; Brenden Groll, drums, lead chair; Elliott Bastian, guitar, first chair; Marcus Gromofsky, piano, first chair; and Ben Koly, first bari sax chair. Koly was also accepted into the band on trombone, but opted for saxophone.
"This success shows how hard they pushed themselves," Burkhart said.
Upcoming concerts include a Jazz Band Concert on Friday, May 13 at the Rehoboth Bandstand, as well as the Spring Band Concert on Wednesday, May 18 and the Spring Choir Concert on Tuesday, May 24, both at Cape High. Full details are on the calendar at capehenlopenschools.com.