Best Gene Krupa Songs: 20 Jazz Must-Haves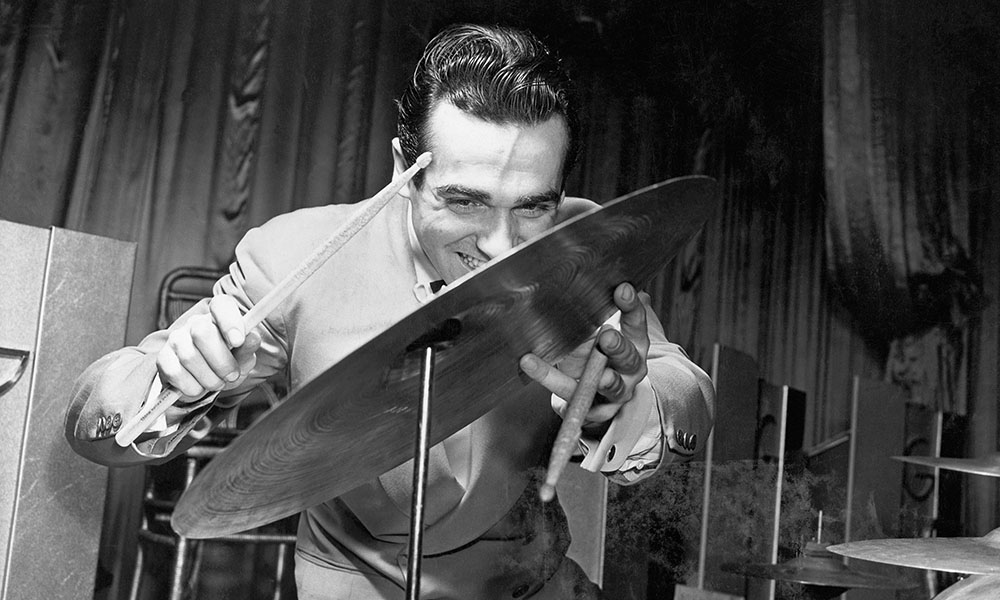 Jazz drums were never the same after the arrival of Gene Krupa, the man with sticks in the hands of a hurricane whom they nicknamed "The Chicago Flash". With his combination of movie star beauty, captivating virtuosity and flamboyant showmanship, he transformed not only the role of drummers in bands, but also the way they were viewed.
Before Krupa lit the 1930s jazz scene like a supernova, drummers were almost invisible; perceived as the least qualified of the musicians, their positioning at the back of the stage seemed to indicate that they were less important than the other members of the group. Their role was seen as purely supportive, a role that involved keeping time and maintaining the rhythmic flow of the music. It was an important task, but one that was often taken for granted by other musicians as well as by the audience listening to them. Gene Krupa changed all that. By helping to popularize the drum solo – a vehicle meant to show off his skill and virtuosity – he quickly became a celebrity.
The drum solo was a radical innovation that depended on Krupa making key adjustments to the way his drum kit was set up. His kit was based on the snare-kick-hi-hat setup that innovative New Orleans drummer Baby Dodds had established as standard in the early 1920s. Krupa added resonant tom-tom drums, which he added. finely tuned to blend in with its snare sound, plus additional cymbals to provide more tonal color.
Krupa first made waves as a young drummer prodigy whose pulsating polyrhythms lit up the already vibrant Chicago jazz scene in the late 1920s. His rise to the top of his profession was meteoric; As a sideman, he performed with legendary horn player Bix Beiderbecke, then made his mark with Benny Goodman's swing-era band, before embarking on a solo career. By 1973, upon Krupa's death, he had accumulated a huge catalog, which included many notable sideman appearances as well as a plethora of solo projects.
For those new to Krupa's music, finding a starting point from which to approach his work can be a daunting task. So we've compiled a list of 20 essential tracks that serve as an introduction to one of jazz's most explosive and charismatic drummers.
Listen to the best Gene Krupa songs on Apple Music and Spotify.
Gene Krupa's formative years
Eugene Bertram Krupa was born in the poor South Side neighborhood of Chicago in 1909 to a family of Polish immigrants. The youngest of nine children, he was first drawn to jazz by helping out in his brother's music store when he was around ten. He briefly flirted with the alto saxophone, but felt a greater affinity for the drums. At the age of 13, Krupa was obsessed with jazz and practiced endlessly. Soon he was good enough to start playing with local Windy City jazz and dance groups, but at the insistence of his mother, who was a devout Catholic, went to study to become a priest in a seminary in the Indiana. He quit after a year and returned to music, quickly climbing the ranks of Chicago's vibrant jazz scene.
Krupa made his first recording with the McKenzie-Condon Chicagoans at the age of 18 in 1927, a group led by singer / comb player Red McKenzie and guitarist Eddie Condon. They cut the single "Nobody's Sweetheart", which had the distinction of being one of the first 78s to feature a full drum kit, although its sound was dampened with mats to avoid overloading the equipment. 'registration. Krupa's drums – and in particular his cymbals – were more audible on the merry "Mama's Gone, Goodbye", a single he composed with bassist Thelma Terry And Her Playboys in 1928.
Benny goodman
These first two performances showed Gene Krupa in a restrained mood, but as recording techniques improved he was able to play with more volume and intensity. His big breakthrough was joining the Benny Goodman group in 1934. By this time, Krupa's style had evolved considerably; it swayed more aggressively and sank in a 4/4 beat rather than the flippant 2/4 meter that had distinguished the New Orleans influenced sound from Chicago jazz.
Krupa injected Goodman's band with a propulsive and turbo-charged rhythmic energy that took the whole thing to another level. Using a high arm action that emphasized the movements of his hands, he brought stunning visual drama to his performances. The peak of Krupa's tenure with Goodman came in January 1938, when the clarinetist's orchestra performed at Carnegie Hall, an august venue usually reserved for classical music. Recorded for posterity, the concert became legendary and crowned Goodman the "King of Swing". But it was Krupa who received most of the praise, especially for his dynamic drums on an epic 13 minute version of Louis Prima's "Sing Sing Sing".
Krupa's dynamism is also evident on "Don't Be That Way" from the Carnegie Hall album; his performance begins subtly, but then he drops explosive bass drum accents and adds short machine gun-like snare breaks, making the song go through multiple speeds. Another facet of Krupa's skill can be heard on the concert's fast and furious "China Boy", which he propels using wire brushes.
Gene Krupa's group
As Gene Krupa's fame began to eclipse that of Goodman, the clarinetist, who allegedly disliked sharing the limelight with his drummer, attempted to tone down his stickman's flamboyance and limit his enjoyable solos. Eventually, a frustrated Krupa left to form his own group. His first significant recording was "Jungle Madness" of 1938, an explosive showcase for Krupa's hammered drums; the reverse of the record, "Apurksody", considered the drummer's signature debut, was less dramatic; a mid-tempo instrumental that highlighted his work as an ensemble musician and proved that not all his tunes were the vector of ostentatious virtuosity.
A year later, the Krupa Orchestra released a slew of 78-rpm singles, marking their first hit with "Drummin 'Man," an infectious slice of big band brass swing driven by the drums of Krupa that featured starring singer Irene Day. After that, the drummer group embarked on a string of hits, rocking the US charts with the quietly stomping "Quiet And Roll 'Em", featuring lively brass plays, and another album themed. percussion, self-written rhythm and blues. Flavored "Drum Boogie", also highlighting Day.
In 1941, Krupa hit hard again with the intoxicating "Let Me Off Uptown" swinger; at that time his group included a sassy young singer called Anita o'day and virtuoso trumpeter Roy Eldridge, whose talent also shone brightly on two Krupa classics from the same period – the frenzied "After You've Gone" and the sweet horned ballad "Rockin 'Chair".
But while Krupa's career was at its peak, in 1943 he was arrested for possession of marijuana – a charge the drummer has consistently denied – which resulted in a 90-day jail sentence that tarnished his reputation and made derail his career.
Gene Krupa in the 1940s and 1950s
Even if it would be difficult to get rid of the image of "junkie" that the American tabloid press gave him, Gene Krupa has put his career back on track thanks to the jazz impresario. Norman Granz, who featured the drummer at his groundbreaking Jazz At The Philharmonic concerts, which began in 1944. Later, in the 1950s, Krupa's career blossomed with the Granz's Clef and Verve labels, where record 33 Newly developed long lasting 1⁄3 turns allowed the drummer to deliver extended performances that mirror the way he performed in a live setting.
The highlight of Krupa's tenure with Verve was the big band's 1956 album. Drummer Man – Gene Krupa in Highest FI, who reunited him with O'Day and Eldridge. Together they cut new versions of the three previously mentioned classic tunes that they took to the charts in 1941. Count the base-Influenced figure that underscored Krupa's ability to lead a band with high octane rhythmic ease.
Such was Krupa's fame in the 1950s that he appeared in several Hollywood films, including two biopics, Glenn Miller's story and Benny Goodman's story, where he played himself. He was even portrayed on the big screen by actor Sal Mineo in the 1959 film. Gene Krupa's story, whose memorable slogan was "He hammered the wild tempo of the jazz era!" "
Epic Drum Battles
No introduction to Gene Krupa's best songs would be complete without mentioning some sensational tracks resulting from his collaborations with fellow drummer Buddy Rich. Krupa's debut album featuring the New York bathtub drummer was The battle of drums, his first LP for music mogul Norman Granz's Clef label in 1952. It was recorded live at Carnegie Hall as part of Granz's Jazz At The Philharmonic events, and features Rich on the title track. The air is a furious barrage of percussive exchanges between the two drummers, where their thundering press rolls, their seismic tom-tom detonations and their explosive cymbal crackles elicit cheers and cries from the crowd watching them.
The next recording Krupa and Rich made was from 1956. Krupa and rich, their first studio effort together, which resulted in an electrifying duel on "Bernie's Tune". After a tense six-minute hail of percussive crossfire defined by ricochet paradiddles, a swing-focused song emerges, featuring the Oscar Peterson trio augmented with horn blowers. Gillespie dizzy and Roy Eldridge. From the same album, Krupa performed without Rich on "Gene's Blues", demonstrating his skill at leading the band with his powerful swing beats.
The couple's last studio collaboration was arguably their most satisfying ensemble: a roaring 1962 big band album titled Burning rhythm, which contained inflammatory versions of Count Basie's' Jumpin 'At The Woodside' and Duke Ellington's "That doesn't mean a thing (if not that swing."
After Burning rhythm, Krupa, who suffered from health problems in the last decade of his life, recorded just three more albums, his last in 1972, the year before his death at the age of 64. At that time, he was even a true legend. although the swing music he had helped popularize was only a distant memory. But the concept of the flamboyant drum solo he patented in the 1930s has been picked up by a new generation of virtuoso, hard-hitting rock drummers like Led Zeppelin's John Bonham and The Who. Keith Moon.
A key contributor in establishing the composition of the drums, Gene Krupa, with his blend of speed, skill, energy and endurance, etched the model of the modern drummer. Although he is long gone, his influence continues.
Think we missed one of Gene Krupa's best songs? Let us know in the comments below.